Digital Marketing For Lead Generation
2023-05-01 969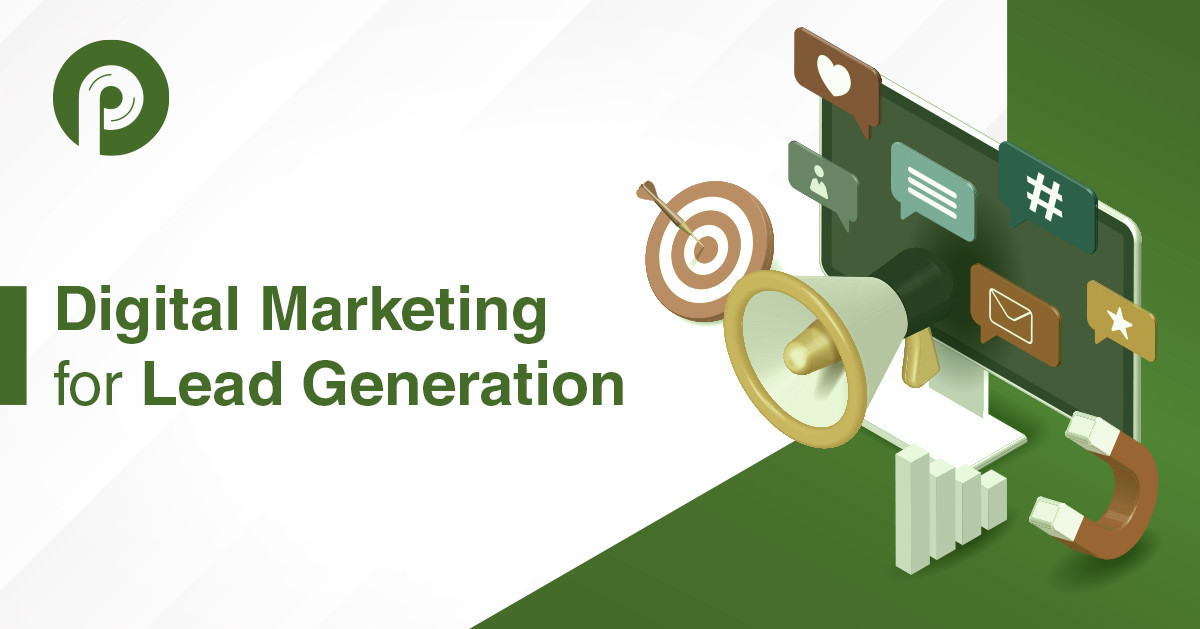 For the majority of businesses, generating high-quality traffic and leads is a major difficulty. In fact, the current "State of Inbound 2022" report from HubSpot shows that this is by far the top difficulty facing marketing professionals. Inbound marketing, a type of "pull" marketing through the internet, generates all high-quality leads on average, compared to leads generated directly by the sales force and generated through outbound marketing techniques like trade shows or cold acquisition. Now let's explore lead creation through digital marketing in more detail.
The main objective of any digital marketing plan is to create new leads that will eventually turn into consumers or clients. Having a strong online presence is a terrific way to connect with your target market, but you must take advantage of all the chances to convert site visits into leads.
Finding the strategies that work best for your brand and business demands and those that will generate the most leads might be difficult. How then can you ascertain which can provide you with the best leads for your money? Here we'll discuss few digital marketing strategies that will help any business generate successful leads in Nepal.
Content Marketing
One of the most successful yet less talked about lead-generating approaches is content marketing. With content marketing, you have the chance to increase your web presence in addition to attracting more reliable leads. Generation leads for digital marketing in Nepal through content marketing is a tool often deferred by marketers and they are missing out on a lot.
The majority of people immediately associate the word "content marketing" with blogging, but there are several other forms to consider as well, such as long-form articles, video clips, infographics, and online user manuals.
A marketer is effectively employing content marketing as long as he/she is offering worthwhile material. Your content needs to be comprehensive, insightful, and relevant to what consumers are currently looking for. Users will believe you are competent at what you do if they see you offering useful information. This increases the trust your audience has in your company and in marketing nothing serves as a good lead as trust.
Content marketing works well because it lets people look for information on their own terms rather than interrupting them with ads. By attracting users to your website with content such as blog posts, videos, and other material, you provide the consumer the power to make a choice.
Email Marketing
Email marketing is probably the oldest and most effective form of digital marketing technique for lead generation. Email marketing helps you to generate and foster leads for the future.
When it comes to email marketing, the first thing to carry out is the creation of a subscriber or email list. One can create email lists by creating forms on different parts of your website, such as the header, footer, or pop-up windows. Yet as a marketer, you ought never to purchase email lists. Most of the individuals on those lists won't be interested in your goods or services, and as a result, your emails will be designated as spam or deleted, wasting your money and maybe harming your campaigns as a whole if email providers start to see them as spam.
People are considerably more likely to appreciate hearing from you and eventually convert if they choose to get communications from you. Hence, once you have a list, you can start distributing information to these subscribers. Links to your material are also acceptable here, as well as details on sales and new goods and services. You may experiment with a few various email formats to see what your audience like, and then you can modify your approach to become more successful over time.
Pay-Per-Click Marketing
Another excellent strategy for generating leads for your company is pay-per-click (PPC) marketing. For particular keywords and phrases, these are sponsored adverts that show up at the top of search results.
What is PPC marketing?
Similar to SEO, PPC uses keywords, so you'll need to decide which ones you want to use as the focus of your ads. Your advertising will start to show up in search results when these keywords are used.
Advertisers place bids for the amount they are ready to pay for each click to their website for any particular term in the PPC system, which runs on a bidding basis. You should concentrate your efforts on long-tail keywords, much like SEO. The less competition you encounter and the lower the cost per click you will incur, the more specialized your term should be.
The positioning of each advertisement is determined by your bid and your quality score. As soon as your campaign is launched, your advertisements can begin bringing in visitors, but you won't be charged until someone clicks on one of them and visits your website.
How may PPC benefit your company?
PPC draws quality visitors, which makes it excellent for generating new leads. Compared to visitors from organic search, PPC visitors are really 50% more likely to complete a purchase.
These advertisements work well because you can target people who employ keywords with specific intentions. Compared to generic searches, users who are looking for the best business to meet their needs will be far more likely to convert.
SEO Marketing
One of the most efficient methods to connect with your target audience is through search engine optimization or SEO. It entails raising the position of your website in search engine results for particular keywords and phrases, which makes it easier for your audience to reach you when they're seeking for products or information.
Since 75% of users of search engines like Google don't go past the first page of results, it is extremely crucial. As a consequence, it's critical for your website to rank among the top results in order to get visitors who are looking for the services you provide.
Selecting the keywords you wish to target is the first stage in developing an SEO plan. In order to connect with people as they look for information, you must first understand their precise needs. How do you decide which keywords and phrases to target in your SEO strategy? SEO entails optimizing for certain keywords and phrases. You must do keyword research to determine your keywords. Making a list of potential keywords is the first step in keyword research. This will help you decide what kinds of keywords to employ.
Also, you have to try to pick keywords that are "long tail," or comprise three words or more. For instance, if you want to get clients for an HR firm, for instance, you should use phrases like "HR service in Kathmandu" rather than "HR Services." Since they reveal a more specific search intent, long tail keywords are a lot better choice than short, wide keywords. People do specialized searches when they want precise results, so your company is more likely to suit what they are looking for. Long-tail keywords are where you should concentrate your efforts because they are less competitive.
As SEO is a continuous process, there are several actions you can do to increase your presence in search engines. While providing results for a particular search, Google takes into account hundreds of variables. Although certain factors are more important than others, concentrating on SEO, link building, and making the user experience as simple as possible will help you increase your exposure and produce more leads.
Social Media Marketing
Another efficient method of connecting with leads is through social media. Although there are numerous platforms accessible today, Facebook, Twitter, and LinkedIn are some of the most used for lead generation. Knowing your target market is crucial so you can determine which platforms they often use and reach out to them there.
Your business has a lot of options thanks to social media. You may start by providing consumers with all the crucial details they require to contact you, such as your address, phone number, and business hours.
Whatever information you produce, including blog entries and articles, can be shared. Sharing images, videos, and other content that provides a behind-the-scenes glimpse at your business on social media is also a wonderful idea. This might assist you in showcasing your corporate culture and giving your firm an online presence.
It's simple for users to interact with and share content with other users when you're accessible on social media. This broadens your reach and aids in driving more traffic to your website.
With social media, you may establish relationships with your target market and turn your followers into leads. After they're prepared to convert and become customers, you may continue to be visible in their social media feeds.
Lead Generation with Pedal Advertising and Digital Marketing
Pedal Advertising and Digital Marketing can be your partner and support you and your business at every level if you're ready to start generating more worthwhile leads. We are a full-service digital marketing company in Nepal with experience in helping all of our clients succeed.
When you work with us, we'll develop a unique lead-generating plan for your company. As a process-oriented company, you don't have any cookie-cutter plans to present to clients, only tried-and-true processes. We'll take the time to learn about your company before developing a customized strategy for attracting and converting your target market.
Our team consists of professionals that bring years of experience to your initiatives. We have everything you need to achieve the results you desire online, so you won't need to deal with various providers.