How Social Media Marketing Can Be A Total Loss of Money & Time
2023-06-06 1434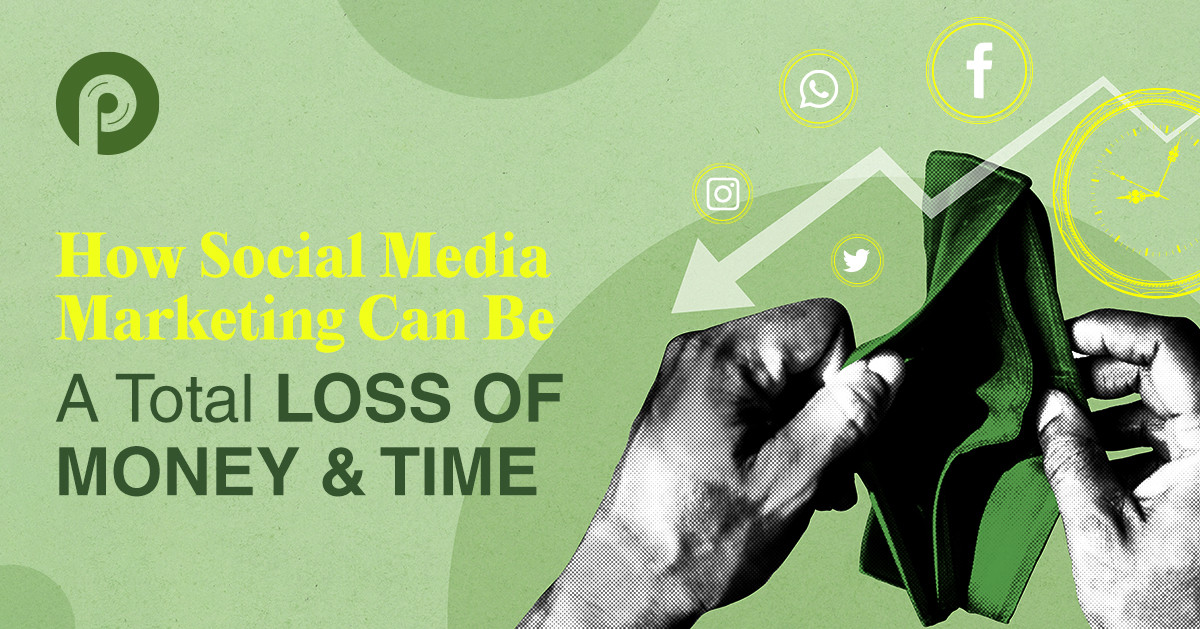 In the world of marketing in Nepal, social media marketing has proved itself to be the most efficient medium for businesses to reach out to their customers and see growth skyrocket. The introduction and proper utilization of social media marketing has changed the face of the world to what to see now today. Social media marketing has transcendence itself into a pantheon of great marketing tools.
For companies of all sizes, social media marketing in Nepal has become an effective method to connect with prospects and clients. If you're a business not using social media sites like Facebook, Instagram, and LinkedIn among many others, you're missing out on the opportunity to learn, follow, and do business with businesses. In the present context of the world, effective social media marketing is most probably the only way for your company to achieve extraordinary success by generating loyal brand supporters, leads, and purchases. The ultimate purpose of social media marketing is for users to sell the website, product, or service to their own friends and social network. For all, a suggestion for a product or service from a friend or family member is likely to be regarded significantly more seriously than random advertising from an unknown third-party source.
While social media marketing is a great tool for businesses of all scales, it may be time- and money-wasting if done incorrectly. Like everything in marketing, social media marketing takes a lot of hard work and comprehensive creative management. Any businesses serious about making a mark where their audience most probably is and that magical place are different social media with their own specific features.
What is Social Media Marketing?
One must be familiar with what it actually means to understand ways to improve your social presence through social media marketing. In a nutshell, social media marketing is a method of maintaining an online presence for brands whilst promoting products and in many instants selling them.
Social media marketing is becoming an increasingly important tool for publicizing a website, product, or service. Many Internet users devote substantial time to social media sites such as Facebook, Twitter, Instagram, TikTok, and LinkedIn. Having a significant and continuously maintained presence on various social media networks may boost website traffic, increase advertising income, and improve product or service sales.
So, Where to Begin?
Understanding: Digital Marketing and Social Media Marketing Are Not Same!
Whenever it comes to social media marketing, people mostly confuse or rather mix it with digital marketing. Social media marketing and digital marketing are frequently used interchangeably. Social media and digital marketing are very different even if they both fall under the online marketing category.
One component of digital marketing is social media marketing, in which businesses use one or more social media platforms to advertise their goods and services. In addition to search marketing, paid social media marketing, paid Google marketing, website analytics, and other strategies, digital marketing also incorporates social media marketing. Digital marketing includes a number of online marketing elements, whereas social media marketing only includes marketing on social media sites. You must decide what kind of campaign is best for your business model in order to have a strong online presence.
Signing up on every Social Media is Not the Solution
Business owners have a tendency to believe that they should have an active business profile on all social media sites, believing that the more platforms they are on, the more clients they will attract. However, when it comes to social media marketing, the number does not always imply quality. Before joining social media networks, it is best to consider where your ideal target audience spends most of their time and what sort of material you want to publish for them. For example, if you operate a heavy equipment enterprise and sell construction machinery to other businesses, LinkedIn could be the only social media site necessary for your growth, probably the greatest social networking site for B2B.
Customers visiting your LinkedIn profile will expect to find information about your goods and services, the history of your firm, current collaborations with other companies, and industry updates or news. Having a LinkedIn presence ensures that you contact your target audience on a platform they use and give them material tailored to their requirements. Customers that use LinkedIn as a professional networking site are more likely to connect with your postings on LinkedIn than on any other social media channel.
Nevertheless, LinkedIn wouldn't be much helpful for businesses with a B2C model. The major audience for B2C businesses wouldn't be utilizing LinkedIn to hunt for their products or services, and business owners that exclusively focus on B2C would not benefit from using LinkedIn. For example, a Linen cloth shop, which runs on a B2C module would benefit from social media such as Instagram or TikTok. A linen cloth company may readily promote its products and services with quick videos, interesting reels, and eye-catching images as Instagram and TikTok are photos and video-focused platforms. An Instagram or TikTok page would be a lot more successful social media marketing tactic since showing visual content that illustrates the linen products and services is crucial for attracting clients.
Every social media site has a unique group of notable users. You can't expect users of a microblogging site like Twitter to search for steel manufacturers or automobile distributors, and you also can't expect them to use a photo-focused site like Pinterest to employ human resources services. Make sure you are aware of your target demographic and the social media channels they use to make purchases before you join any social media network. Spend your time and efforts improving the platforms that connect you with your target audience rather than waste it maintaining several social media sites.
Posting regularly might not work for everyone.
As attractive and easy as it looks, and contrary to popular belief, posting regularly every day might not work for everyone. Unfortunately, there is a thing called too many posts and it is really bad.
When sharing material on your Facebook or Instagram business page, you should constantly think about how the platform's algorithm will respond to your posting schedule. Hubspot claims that users who post more than once per day see a 50% decrease in engagement per post. In order to maintain audience engagement on Facebook or Instagram without messing with the algorithm, businesses should publish 3–4 times each week. On Twitter, however, it is advised to publish 1-2 times daily. Whereas Facebook and Instagram's algorithms penalize you if you publish more than three to four times per week, Twitter's algorithm encourages interaction when you tweet frequently.
Make sure your content is pertinent and beneficial to your target audience when posting on any social media site, including Twitter, Instagram, Facebook, and others. More people will interact with your posts as a result of your content's increased value. In order to help your content reach more readers, the algorithm will cooperate with you to move it to the top of the news stream. Don't waste your time and energy making designs, writing content, and publishing articles every day on a site that will only work against you. Instead, adapt your posting schedule to the platform you're utilizing.
So, how can you run an effective social media marketing campaign? Especially in a country like Nepal?
The first thing to understand before jumping into effective ways to run a social media campaign in Nepal, we have to have some level of knowledge of where people mostly are when they are online. According to the analysis of Similar web apps such as Facebook, TitkTok, Instagram, Snapchat, and Twitter, people spend most of their time online. Other apps such as Hamropatro and several news apps also gather a huge percentage of users on a regular basis. While it isn't much concrete data but it gives us a general idea of where people usually are and it should be enough for any marketer to create effective planning in accordance to the client's needs.
How Pedal Advertising and Digital Marketing conducts social media campaigns
At Pedal Advertising and Digital Marketing, we take social media marketing takes very seriously as running an impeccable social media campaign has always been our strongest suit. We have always believed that creating a prominent social presence before running a paid social media campaign is crucial. This helps in creating brand awareness and early organic interactions can be a great lead generator.
Social media marketing is far more complicated than it first appears and running it effectively is the main focus of an entire social media team at Pedal Advertising and Digital Marketing. The strategy director, creative team, social media experts, content writers, graphic designers, and data analysts on our team are all dedicated to boosting the exposure of your company. We are committed to increasing visibility and connecting with your targeted audience by consistently publishing interesting material to interact with your community online.
One thing that sets Pedal Advertising and Digital Marketing apart from other marketing agencies around the world as we always value and promote the solution any product provides rather than the product itself. We don't just sell your product, we promote the experience according to the needs of your targeted customers. Our process may seem a little unorthodox but nothing beats doubts than mouth-watering results in just a matter of time. We believe in the process and we owe everything to the process of our work for the success we have seen in a very short amount of time.