Customer Experience: Enhancement with Business Transformation
2023-04-24 3317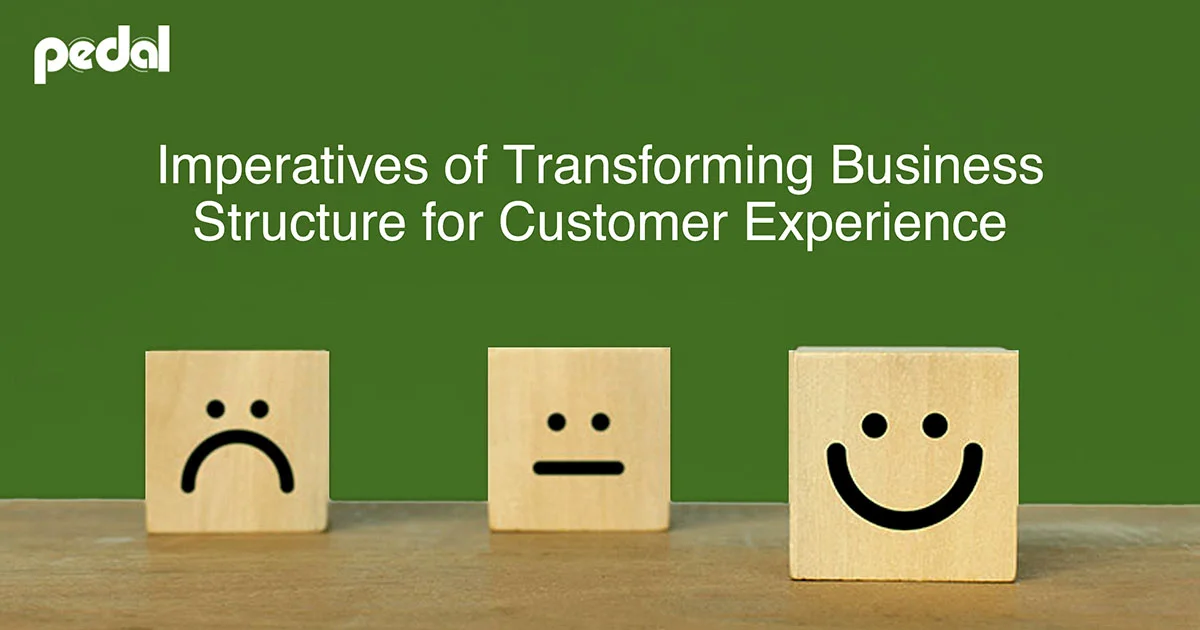 Customers are the cornerstone for the success of any business. As customers have too many options available these days, there is a higher probability for the customers to change brand too often unless they are held back by an awesome customer experience enhancement.
It has been popularly remarked that "A brand without trust is just a product and its advertisement are just a noise.". In order to build that trust of awesome experience, marketers should be able to gauge their expectation and provide experience relating to the platforms they are present on; and with the growing trends in technologies, companies should not hesitate to restructure their work culture as per the requirement.
Companies must conduct researches to analyze what's creating the gap to provide better experience rather than just adding on new services and creating a new failure. Most of the times, small steps are beneficial for companies to grow.
Below are three imperatives of transforming the organization for better customer experiences: customer, employees, internal organizational structure.
1. Focus on What Customers Prefer
There are plenty of apps and websites available today for finding different types of contents. People choose them based on their interest but some marketers fail to segregate the audiences and put similar matter across different social media sites without understanding what appeals for Facebook Audience might not appeal for YouTube audience.
Let's just hypothetically imagine we are sharing a blog on Instagram and asking people to click and read where actually Instagram is meant for photographers and photo or creative lovers to look through eye-catching visuals.
Improper placement of content is similar to placing a 30 sec TVC on YouTube where people generally watch instructional videos or tutorials or anything else for entertainment. Don't let the customers feel cheated like they have paid 200 bucks just to watch a normal mobile recorded video on a larger screen instead of HD video with surround sound system.
Companies should start organizing contents as per the platforms and reach appropriately where their customers are and in the way what customers would love to experience. Websites these days must be both desktop and mobile friendly.
Let's say, a local clothing store started a website to display what's new in store. People would love to visit the website but it might not help the business to grow as people still have to visit the store to purchase that product. The location of the store might not be easily accessible and inhibit people from taking an extra burden. Rather they would shop from any other nearby store.
If the same store provides option for online booking and free delivery to the door step, it would create a new avenue for people to transact and buy products from the store at ease.
2. Facilitate Employees to Support Customer Experience
During the service delivery, customers come in contact with the employees, who represent the service that we provide. Employees who are not updated with new technologies might use old methods of handling customers and hamper the entire business.
The skills of employees should be upgraded and they have to be trained on how they should interact with the customers as they are actually representing the brand rather than a person in particular.
Let's say, a departmental store offers a huge line of products and a lot of customers purchase there due to competitive rates and quality of products. However, the cash-counter queue is always long and people have to spend a lot of time standing. This will gradually make the customers visit nearby stores where queue is not an issue. The store took a new step of customer experience enhancement and started a mobile App where the customers can themselves scan the barcodes and add up to their shopping list and pay through cards or net-banking. The employees had to just scan the final code to provide the checkouts. This dramatically decreased the queue and more people started visiting the previous store again.
The employees should be facilitators rather than a barrier point in the shopping experience of the customers or in the process of availing certain services.
3. Internal Organizational Restructuring
For a customer, all the touchpoints of an organization are the same thing. They see them as a brand rather than a separate entity. An online chat experience with a company, telephonic enquiry or physically visiting the store itself for the enquiry should be a standard experience.
Some organizations are unable to integrate these entities and customers remain confused. An online disgraceful experience might make them never lend at the store. So, if a company's audiences are present on Facebook, its focus should be on providing customized offer than choosing mass media for advertisement. Every department should play their role to sync the data and work upon it accordingly.
An investment bank wanted to launch online buy and sell option of Mutual Funds from its app and websites. However other verifying and allocating departments of Mutual Fund still worked manually and provided confirmation two days later from the day of transaction. This made the customers unsure about their online action resulting the strategy to be a big failure. The company still reached out to mass audience rather than providing custom ads to the one who were in constant touch with their brand.
Had the company restructured its departments and focused on personal or direct sales and systemized for online verification to process for buy and sell instructions, customers would have realized a delight and would transact online more rather than taking some time to visit branches and standing in queue.
This app would even give access to people out of valley to place orders for Mutual Funds from their locations and increase the transaction of business.
Businesses today must provide an awesome experience to their customers in-order to survive indefinitely. In most cases, the service industry people require to seek better attention. If their customers are not happy then they can easily switch to any other competitor resulting hamper to the business. The employees must be updated with new ways and systems to create better experience and frequent personal trainings can ensure that.
We aim to disseminate what we know in subjects relating to integrated marketing that includes digital marketing, advertising, content creation and marketing, public relations, branding, event management, web solutions, video/photography, corporate social responsibility, etc. that might help you remain informed. Drop-in your feedbacks. We are happy to improve; always!