Tips and Tricks to Increase YouTube Visibility
2023-04-24 3899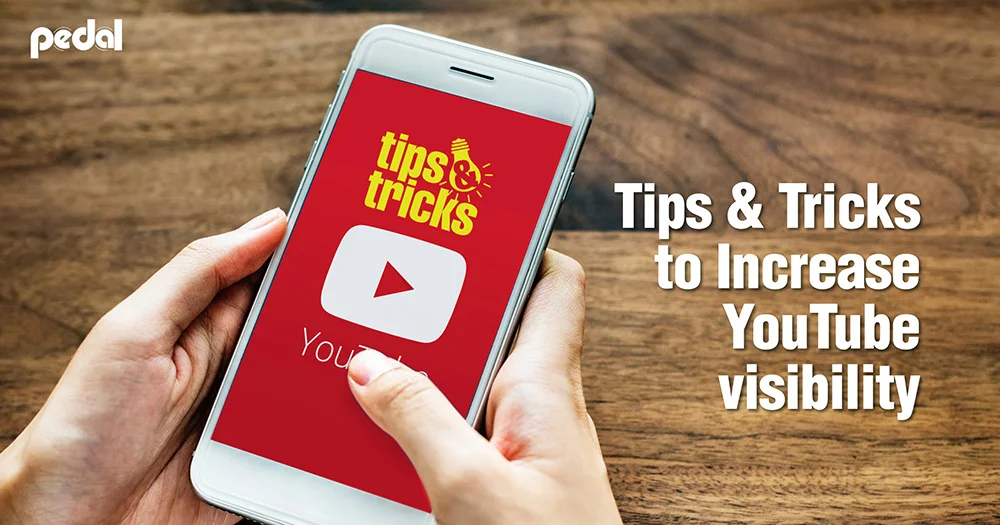 YouTube, the most popular site for video content can be ranked top 5 most used search engines amongst all. Although many websites have been testing on the video content, the popularity of YouTube due to its interface, quick streaming, wide variety of content and varied age group of users outstands all. YouTube has been testing Live Broadcasts, YouTube TV and YouTube Premium for better user engagement. The concept of channels and earning associated with the video views on YouTube has also contributed towards its popularity.
So, the major question pops out is, "Is your business rightly leveraging the popularity of this platform? Is your Business getting enough visibility and engagement through this medium?" If the answer is Yes, you're doing pretty good but if the answer is No and you're thinking for improvement on your YouTube visibility, then refer to some tips and tricks mentioned below.
1. YouTube Works differently than Google and Facebook
Unlike Google, the basic platform of YouTube shows users different videos that the user might be interested in and also provides a search bar for other video searches.
In Facebook we generally scroll down through the news feed and stop by the videos that interest us rather than searching for videos on a particular topic on Facebook.
Video Discovery on YouTube
Searching for content
Browsing content and going from one suggested video to the next
Watching playlists, thereby discovering related videos in those playlists
Finding new channels through video collaborations
Watching the suggested video on their YouTube homepage
YouTube wants users to watch more and more videos, and subscribe to more and more channels. Contextually, if users keep watching your full videos, the contents of your channel start popping up more often in the suggestions.
YouTubers must focus on the content of the video and make it as much engaging as possible so that there is longer watch time and CTR (Click Through Rate) of the video also increases due to the popularity.
2. Title, Description, Thumbnails and Metadata
On YouTube, the customer journey doesn't start with the video itself. It starts with the title and the thumbnail. The Title and thumbnail should be so well designed that they can provide a good expectation to the viewers and after the video is played the expectation delivered should be met by the content of the video very soon. Else the viewers are going to bounce back and decrease the quality ranking for our videos.
The Meta data worked very fine in the past but doesn't hold a great relevance in the present as Google learnt that the best result for a search query isn't necessarily the video that repeats a keyword five times in the description and crams it 14 different ways into the tags but one that creates maximum hours of views.
So, the bigger Goal should be to optimize the video for maximum hours of views than to being more friendly with the algorithm bots.
3. How Long Should Your Video Be?
There is no evidence to support the exact length of the videos on YouTube. Make it as long or as short as you can, provided that it creates interest in people and they are ready to watch your whole content.
Generally, series or TV shows gather longer watch time as people have passive watching behavior during those times and longer videos are watched well by the visitors. It cannot be true with speeches, demonstration or less interesting events.
Sometimes, short videos of 2 seconds are also considered great content for YouTube and trend well.
Also Read: Ways to Increase LinkedIn Business Page Visibility
4. Use Card for Linking other Channels, suggesting other Videos, Creating Polls etc.
Cards are preformatted content that appear towards the last of the video content used for brand building or promoting other videos on the channel. We can choose from variety of cards like merchandise, fundraising, video or more.
Once they're set up, a small rectangular box, or teaser, will appear in the top right corner of the video to give fans a preview of the message. If viewers tap or click the teaser, the card associated with the video appears along the right side of your video (or below the player on mobile in portrait mode).
Cards work well when they are placed in conjunction with scripted calls to action or when they are relevant to the video content.
Apart from these there are numerous other ways to share links and gain traffic from different sources but all these cannot make sense until the content is engaging and can hold the viewers to watch till the end and share the content. So, the main focus should always lie around creating most engaging content.
Pedal Group is one of the Top Social Media Marketing Agency in Nepal helping you establish your business as an authority with informative, targeted content with a strategy that follows your audience and boosts your Social Media Presence even further on digital media.
We aim to disseminate what we know in subjects relating to integrated marketing that includes digital marketing, advertising, content creation and marketing, public relations, branding, event management, web solutions, video/photography, corporate social responsibility, etc. that might help you remain informed. Drop in your feedbacks. We are happy to improve; always!