Simple Ways to Increase LinkedIn Business Page Visibility
2023-04-01 2327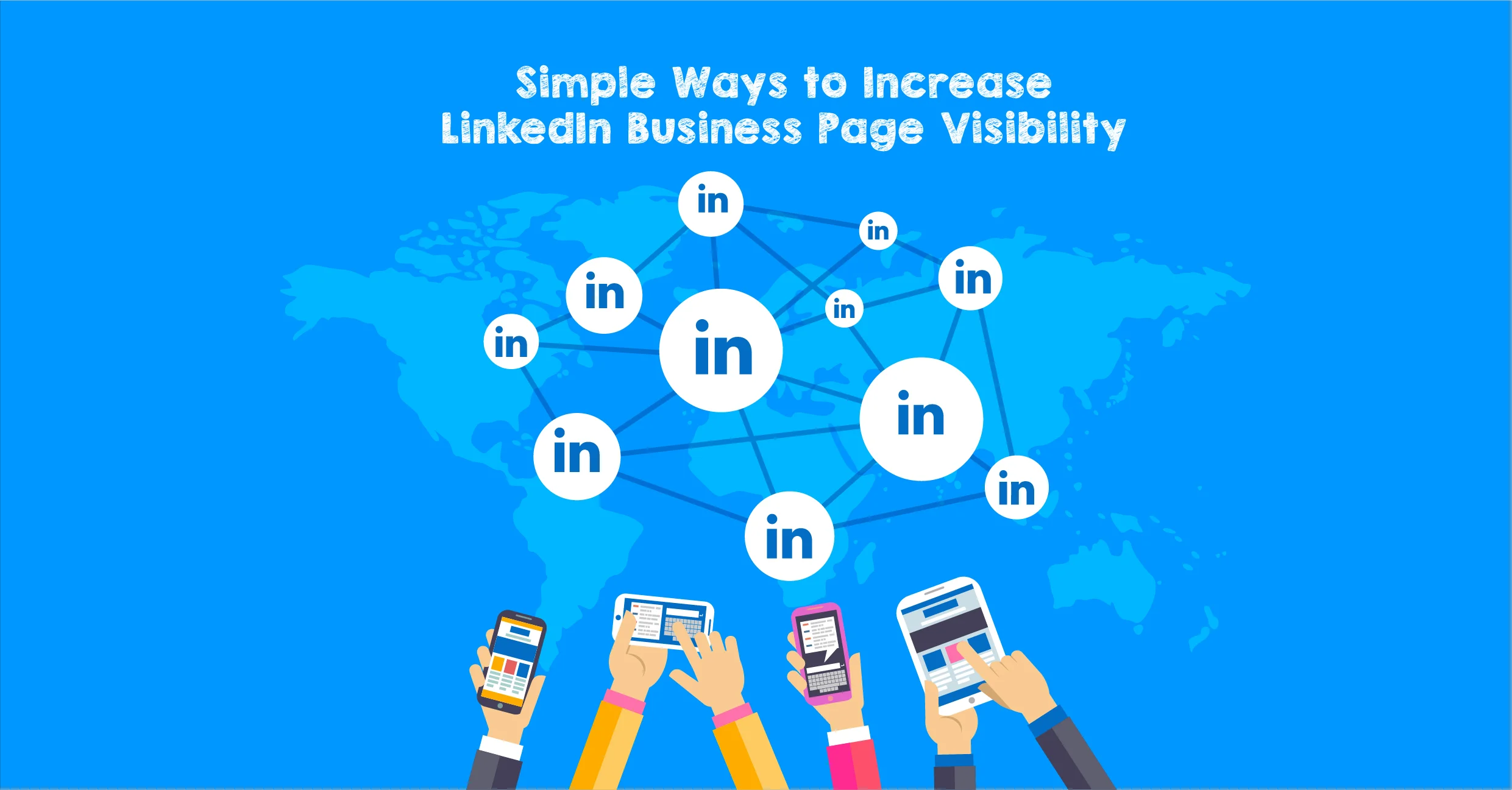 LinkedIn is the largest professional network known, with more than 500 million users. Generally, LinkedIn is overlooked as a site for looking out for jobs or maintaining one's own professional profile. LinkedIn can be more than that. LinkedIn has a special section for companies called company pages which can be used to establish business presence and its expertise in different areas. There is a huge opportunity to build relationships with potential customers, clients, partners and peers. LinkedIn pages also offer more enduring visibility and easier access to the content than LinkedIn personal profiles. Simple strategies can increase visibility of the brand and continuous engagement can build brand prominence and loyalty.
Following are a few simple but effective strategies to make a brand visible faster. With growing use of Social Media and increasing use of Facebook and Instagram, LinkedIn has also made several changes to make it more relevant and useful for professionals. According to LinkedIn, 40% of users check their profile regularly.
1. Complete the Profile Section Well
The completely filled company profile gives up to 2x more visitors than those with incomplete page profiles. Fill up the following fields properly in the profile:
- logo
- company description
- website URL
- company size
- industry
- company type
- location
- call to action
Besides, emphasis should also be laid on writing the description with all major keywords associated with the brand. Three main hashtags can be set to help the brand discoverability. Companies can create up to 20 specialties for easy tracking and set specialized URL to represent the brand on LinkedIn.
2. Share the Page Link Outside the Network
It is important to ask the employees to fill their personal profiles with link to the company page to increase the search visibility inside as well as outside of the network (for instance, Google Search results).
Besides sharing links of the profile in email communications and other forms of external communications will also increase the brand visibility.
One should also emphasize on influencing the employees to share the company information and mention companies page in their communications.
3. Take Part in LinkedIn Groups
LinkedIn Groups are places where like-minded people are talking on specific topics. Engaging with those topics and sharing own unique content will make the brand active and known among that group.
4. Build a Strong Content Strategy
Every piece of information shared across the profile is important. People may discover a piece of information and if they find it interesting will visit the company profile. If the services and other information are relevant, they may turn into long term customers.
Some people argue that at least two contents for a week is enough but experts suggest that to keep engaging with followers companies should be posting on regular basis. The content strategy should include the following varieties of contents.
Pioneering video on LinkedIn

LinkedIn allows up to 10 minutes of videos. The video can be of any format – vertical, square, horizontal etc. It is easier to view square across devices but format doesn't determine the performance at all. Starting with short but quality video will be beneficial.
Video is still a relatively new feature on LinkedIn and the algorithm purposely pushes native content over content that kicks traffic away from the platform. So, it is encouraged to post videos natively instead of using YouTube links or any other external links.
Videos with subtitles are preferred as by default videos are muted on LinkedIn and people prefer to see videos muted when they are in offices or in public.

Ask Questions to Start the conversation

Questions on interesting topics initiate conversations and posts with more engagement remain longer on the news feed compared to those without engagements. It will also help brands understand their customers.

Share Links and Images

Attractive or rich Images with meaningful messages are always preferred. Although LinkedIn is not famous for rich content, use of images cannot be ignored. Pictorial representations have always worked out.
Apart from this, links to websites or blogs are also beneficial to drive customers to company's assets and keep retargeting them.
But external link may not always be useful. LinkedIn users might not be interested to navigate away from the main source. Hence, LinkedIn prioritizes long article on the same page. Nonetheless, companies can give enough reasons on the LinkedIn page itself along with link to entice the visitors take that particular action.

Upload PDFs, PowerPoints and Other Documents

LinkedIn recently introduced the option to upload PDFs, PowerPoints, and other documents to organic posts from home page, company page, or group. People love this feature, along with checklists, cheat sheets, statistics and anything else that helps a busy professional feel like they're getting things done.

Run Takeaways

While giveaways are popular and powerful on Facebook and Instagram, many companies aren't currently doing them on LinkedIn. Running giveaways that are at large tied up with business strategies or goal, every quarter can be beneficial.

Boost Content from LinkedIn Pages

There are many different ways to boost content from LinkedIn Pages. The best way can be to post the content from the company page and ask employees to share that content. The fact that employees have 10X more firsthand connections than the company's followers cannot be ignored and urging them to share will increase the visibility multiple times.
Utilizing the latest changes that LinkedIn has done and creating engaging content for better traffic can give companies a better recognition. Plan your strategy today!
We aim to disseminate what we know in subjects relating to integrated marketing that includes digital marketing, advertising, content creation and marketing, public relations, branding, event management, web solutions, video/photography, corporate social responsibility, etc. that might help you remain informed. Drop in your feedbacks. We are happy to improve; always!