Nepalese marketing industry in 2023: 4 Trends to Watch Out For
2023-04-01 1885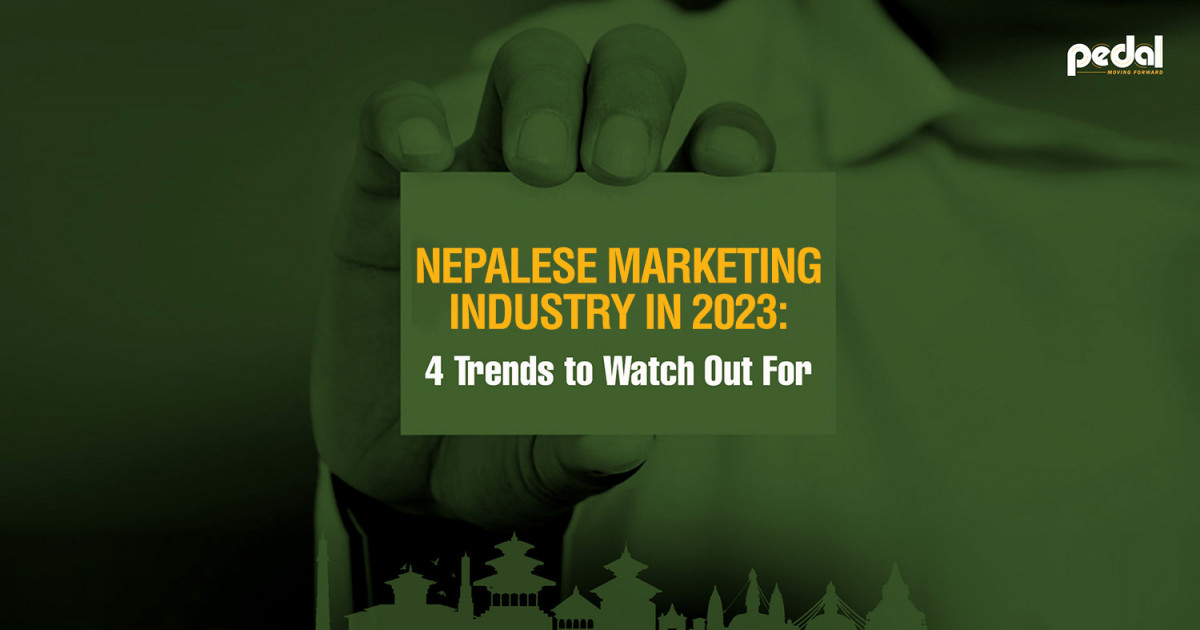 If you work/collaborate in content marketing, you probably know that its exponential growth and perpetually evolving ecosystem urges us to constantly search for the next big thing.
Sometimes, we're creating pillar pages and topic clusters to appease Google, and at other times, we're completely changing our entire social strategy because another Facebook algorithm update will dampen our organic reach even more than before.
Fads come and go, but we have tried to list out 4 marketing trends that will stay relevant at any time and is gaining significant traction in 2023:
1. Neuromarketing
Digital marketers can measure views, social shares, scroll depth, subscriptions, leads, and sometimes even ROI. But even though we have access to a lot of metrics, we still seem unable to measure what is arguably the most important indicator of a campaign's performance - emotional connect.
In an industry where skimming a page for 10 seconds qualifies as a view, leaving your desk to grab some coffee will result in a time-on-page of five minutes; and 50% of web traffic and engagement are generated by bots and Chinese click farms (which is an established fact by now). Based on such parameters, to assess the emotional connect becomes very challenging. Luckily, with neuromarketing, which is a mix of neuroscience and marketing, brands can gauge the emotional connect of their current and future marketing campaigns. To do this, companies have developed wearable technology that can assess certain neurochemical and physiological responses, which both signal emotional engagement while consuming marketing content. It might take a little time for such technology to reach the shores of Nepal, but it surely will.
2. Multicultural Marketing
The societal movement for diversity and inclusion in Nepal has relevance for markets too. Brands are willing to adapt to this change in socio-cultural equations in the Nepalese society. Marketing Companies in Nepal need to prioritize diversity and inclusion, but even though Nepal is highly multicultural, most brands market in a way that only appeals to a country's majority. It means there are many people in the country that brands aren't catering to. There is definite potential there.
Ultimately, letting minority groups know that it's not only okay to be different, but it's also amazing that they bring such diverse perspectives to the table, will only move the society forward. If this translates to better volumes in sales, doesn't it make perfect business sense?
3. Podcasting
People are warming up to online audio content at unprecedented levels. People are tuning in to their favorite podcasts, online radio shows, and audiobooks. The demand for audio content has increased manifold, but that doesn't mean people will listen to your branded podcast just because it's a podcast. They'll only listen to it if it connects emotionally.
4. Word-of-Mouth Marketing
People trust customers over marketers because marketers have an agenda - they promote their product or service to generate sales. On the other hand, customers will only talk about a product or service if it is truly beneficial.
To create as much word-of-mouth marketing as possible, you need to stay focused on developing the best product or service possible and providing exceptional customer service.
Sometimes, as the maxim goes, 'Old is gold'. One of the earliest forms of marketing still appeals to people because Social Media has made it easy to know a diverse array of opinions and humans are neurologically wired to follow the lead of other people they happen to trust. Brand pages, therefore, also serve as an excellent platform for word-of-mouth marketing.
Technology has penetrated almost all aspects of people's lifestyle, but humans are humans. It is time to assimilate the learnings of both (which marketing, in a way, has always done) and create marketing content that leverages both.
Pedal Group is one of the Top Digital Marketing Agency in Nepal helping you establish your business as an authority with informative, targeted content with a strategy that follows your audience and boosts your Online Presence even further on digital media.
We aim to disseminate what we know in subjects relating to integrated marketing that includes digital marketing, advertising, content creation and marketing, public relations, branding, event management, web solutions, video/photography, corporate social responsibility, etc. that might help you remain informed. Drop in your feedbacks. We are happy to improve; always!