How to Increase Website Visibility on Google
2023-04-24 3770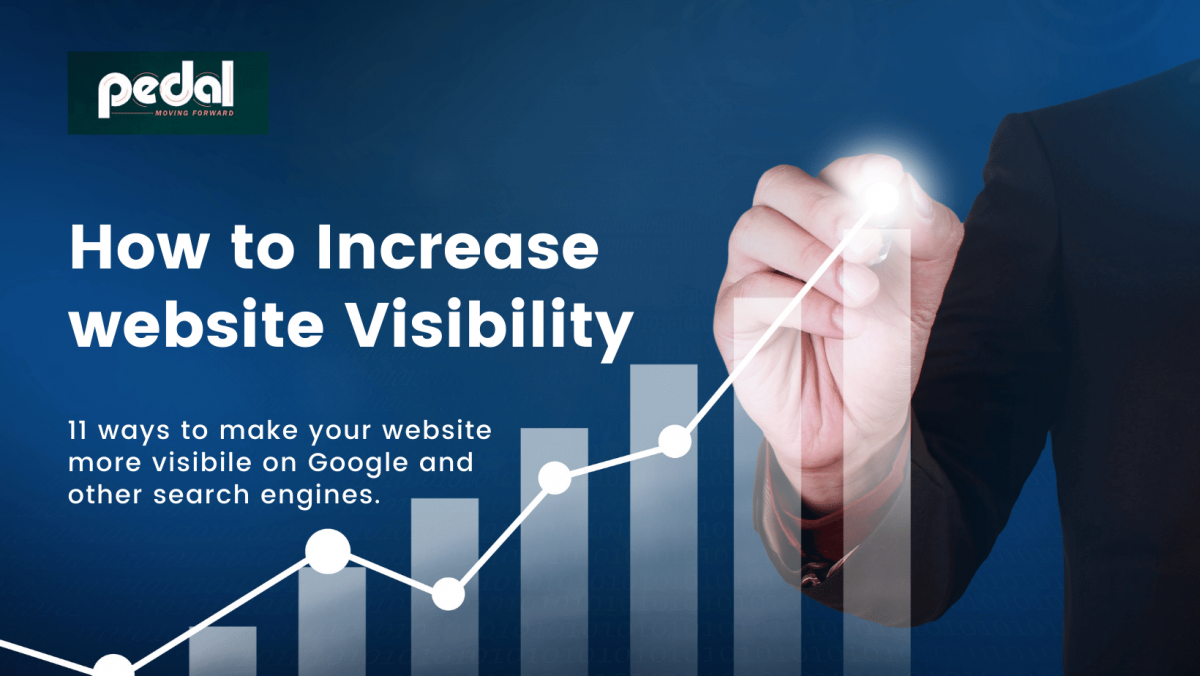 Creating a visually appealing website with readable content is one of the fundamental things to increase website visibility. It is, however, not the final step toward campaign success.
When it comes to getting your website noticed, you may or may not recall that Google is the biggest game in town.
Getting your website on the top page of Google is not a single-day task, it is rather a process of constantly creating quality content by following SEO Guidelines. An increase in website visibility promotes brand awareness and leads to increased traffic, sales, and growth. Here's how to boost your website's visibility in Google search results.
What is Website Visibility?
Website visibility in general means getting your website ranked among the top searches on the web when users search for related queries or products. Various relevant suggestions are displayed when a random internet user searches for a product or service. When your product or service is visible, it appears among the first set of suggestions.
The goal of web visibility is to have your website listed and ranked in major search engines such as Google, Bing, Yahoo, etc. The reason for this could be that these three programs account for more than 85% of all search engine traffic.
11 Ways to Increase Website Visibility on Google
There are trillions of web pages that are competing for top page ranks on Google. These are a few ways to increase website visibility on Google so that it can be ranked first. Similarly, there is no shortcut for increasing website visibility.
1. Make your website mobile friendly and optimized for speed
To make sure the mobile-friendly website should be optimized and maintain page speed quality. According to Google ranking factors, if they are not properly optimized, they will lower your ranking and visibility on the web.
In April 2015, Google released a new mobile-friendly ranking algorithm to boost the rankings of mobile-friendly pages in mobile search results. In July 2019, all new websites went live with mobile-first indexing enabled by default. Google will continue to crawl older websites to ensure mobile-first best practices on your website.
You can use this Google Mobile-Friendly Test tool to check whether your website is mobile-friendly or not?
For checking website speed you can either use Google Page Speed Insight, GtMetrix, or Pingdom Website Speed Test.
2. Integrate your site with Google Search Console and Google Analytics
In order to bring organic rank data to your website, Google Search Console and Google Analytics play a very vital role.
Integrating your site with Google Search Console and Google Analytics provides various insights regarding search queries, user behavior, keywords, bounce rate, demographics information, etc. It also provides information regarding organic search behavior metrics, such as goal completions, for landing pages, devices, and countries are all in one place.
For example, you can look at landing pages or queries that have a low CTR and make better decisions about how to improve your SERP pages.

3. List your business profile through Google my Business listing
Optimizing and creating Google My Business Profile will let you add services that you offer, industry categories, locations of your business and respond to customer reviews. And also ensure that your NAP (Name, Address, Phone Number) is consistent across the web and on your website. This is another ranking factor with Google, and it also helps your business with local SEO and improves visibility in the areas you serve.

4. Submit sitemap to search engines
Before submitting your sitemap to Google it is important to know what sitemap is? It is a file that contains information about your site's pages and posts, as well as the relationships between them.
This file is used by search engines like Google in order to crawl and index your site more efficiently. A sitemap tells Google which pages and posts on your site you believe are important, as well as provides valuable information about these files.
If your site has pages that are difficult for Google's robots to discover during the crawl process, it can be hard to rank on Google. So using a sitemap will show the crawlers where to go on your website and index new content faster.
Here's how you can submit a sitemap to google.
Open Google Search Console and Login with your gmail account.
In the left side navigation, look under Index and click Sitemaps.
Under "Add a new sitemap" enter your URL+sitemap.xml
Click Submit and it will display your sitemap below under "Submitted Sitemaps"
5. Research keywords in your niche, focus on long-tail keyword
Before creating any content it is very important to know what actually people are searching for. There are various keyword research tools like Ahref, Semrush, and Ubersuggest that you can use to know what people are looking for on the internet.
Have you guys heard about the Long Tail keyword? It is a phrase consisting of three to five words. Because these keywords are more specific than generic terms, you can target specific demographics. They are even designed to better reflect how people make queries, these keywords are also less competitive than generic keywords and is comparatively easier to rank.
Long-tail keywords become increasingly important as the customer journey progresses. Users typically start with a simple search, and as search engines guide them to resolving their problem, their searches become more detailed. Long-tail keywords will become increasingly important in differentiating your brand from the competition.
People now generally enter queries into Google with the same phrasing they use when speaking with a friend. This is known as natural language. Using long-tail keywords, your content is more likely to draw these users into your website and start the buyer's journey.
Because long-tail keywords are made up of a few words, they are much more specific. This means that both users and site owners will see improved results. Brands will receive traffic that is more closely related to their content, improving their ability to effectively bring new customers into the sales cycle. Customers are also happier when they receive content that is more closely aligned with their goals.
Also Read: Traditional vs. Digital Marketing: Which One Will Survive??

6. Create high-quality content on a regular basis
Content marketing is a digital marketing strategy that entails constantly creating and distributing valuable and relevant content that generates engagement and converts users into potential customers over time.
Writing about keywords and properly incorporating them into your pages will help Google notice you, but if you want more people to notice you, you must rank higher.
Creating a quality content writing strategy is the key to ranking higher on Google. There are no quick fixes. Google considers how long visitors stay on your site and whether they navigate to other pages before leaving. To create an attention-grabbing blog post and increase website visibility, make sure to:
Dive deep into topics and respond to the most frequently asked questions about your keywords.
Include images, videos, and other forms of media to keep viewers' attention and increase dwell time.
With your website, strive to provide an experience (not just answers)
Keep an eye on load times and optimize for mobile.
Obtain backlinks from other reliable Google sources.
Focusing on quality rather than ranking will help your company rank higher on Google and attract more customers.
7. Optimize your title and meta description for SERP
Optimizing the title tag and meta description can increase the Click Through Rate (CTR), which can also lead to the page's ability to rank higher on the Search Engine Result Page (SERP). Using Enticing headlines can make a dramatic impact on people interested in reading your blog.
Simply put, a meta description is the answers that are given to users based on their search queries; it varies automatically if the answers are available on a blog. If the user's answers match, he or she will visit the website, increasing the click-through rate (CTR).
Meta descriptions can help drive clicks, traffic, potential conversions, and revenue by doing the following:
Increasing a site's SERP Click Through Rate(CTR)
Higher quality traffic
Potential conversions

8. Optimize blogs for Rich Snippets
Wondering what is rich snippets? Rich snippets help people looking for information to not only see information relevant to their search queries, but also get quick answers to their questions, read reviews, and compare prices all from the search engine results page(SERP).
For example: Normal google search results consist of 3 elements. Ie; URL, Meta Description and Title Tag.

But Google search results with rich snippets look like this

Rich snippets are more attractive and display more data than normal snippets. In the above image, we can see the air fryer recipes blog is using "aggregateRating" and "cookTime" schema properties from the Recipe Schema to display in the Google SERP. It also helps in improving your Click Through Rate (CTR) which can ultimately lead to an increase in the website visibility on google. There are different schema to implement these rich snippets based on different categories of information like recipes, products, movies, books, etc.
9. Create Internal links and Backlinks for your website
Links are crucial for any content to rank higher on the Search Engine Result Page (SERP). If your posts and pages are linked strategically in a relevant way it will make it easy for Google to find your content and index them.
An internal Link is linking a web page or post with another within the same website. Internal Links are easy to build, do not require any additional cost, and are completely in our control.
While backlink is just opposite to Internal link. Backlink simply is back support from another website or we can say, promoting your website from another website in order to increase traffic, domain authority, and many others.
Both internal and backlinks are important in order to generate traffic for your own website.
10. Create a Social profile and promote your business
According to Google, social media marketing is not a direct ranking factor for websites. However, having a strong social media presence can help your business to reach wider audiences which can also lead to an increase in website traffic.
You can use your social media presence to attract initial engagements and traffic while Google is still figuring out what you do before indexing and ranking your webpage.
Furthermore, an effective social media marketing services can also help in building partnerships and increasing brand awareness.
The effectiveness of your SEO efforts can be enhanced by promoting your website content on various social media platforms like Facebook, Twitter, Instagram, Pinterest, etc. on a regular basis. An omnichannel marketing strategy will benefit your overall brand presence and increase website visibility, as each channel will complement the other to achieve the desired results.

11. Perform SEO audits and fix errors
An SEO audit gives you insight into your website, identifying areas that need to be improved so that you can rank higher in organic search results. Search engines' algorithms change on a regular basis, so it's a good idea to go over your website and see how those changes have affected you.
Furthermore, an SEO audit will also provide information regarding different errors like duplicate content, Content cannibalization, redirection issues, broken links, etc. Fixing these issues will provide countless SEO Benefits for Business and also help your website ranks higher in the search engine.
There are various Free and Premium tools to perform SEO audits of your website like Ahref, SEMrush or Ubersuggest, etc.
FAQ
How do I make my website more visible on Google?
By making it mobile-friendly, as today's users are increasingly reliant on mobile devices. Page speed should be increased, blogs should be updated regularly, and most importantly, we should create unique content.

How do I get my website on Google Maps?
Go to maps.google.com on the web.
Type your organization's address into the search box, and then hit [Enter]. Google Maps will display a pin on a map indicating the location.
Select the sprocket in the lower right corner, then choose Share or embed map. Copy the link displayed.
Login to edit your website. Select the text where the address displays, then add a link to the map location. Save and update the web page.
How to get a website on google's first page?
Adding targeted keywords to specific areas of your website, creating valuable and unique content, and updating and maintaining your Google listing on a regular basis help you to rank your website on the first page of Google.
How does SEO increase website visibility?
Because the majority of people will find your site through a search engine, search engines are critical to its visibility. "Search engine optimization (SEO)" is a strategy that aims to make websites appear as high in search results as possible.

How do I get Google to index my website?
Google must be able to find your pages and post in order to index them. Submitting a sitemap on Google Search Console can help you index your website.
Learn More
Pedal Group is one of the Top Digital Marketing Agency in Nepal helping you establish your business as an authority with informative, targeted content with a strategy that follows your audience and boosts your SEO efforts even further on the digital media.
We aim to disseminate what we know in subjects relating to integrated marketing including digital marketing, advertising, content creation and marketing, public relations, branding, event management, web solutions, video/photography, corporate social responsibility, etc. that might help you remain informed. Drop-in your feedback. We are happy to improve; always!