Social Media Marketing in Nepal
2023-04-24 1248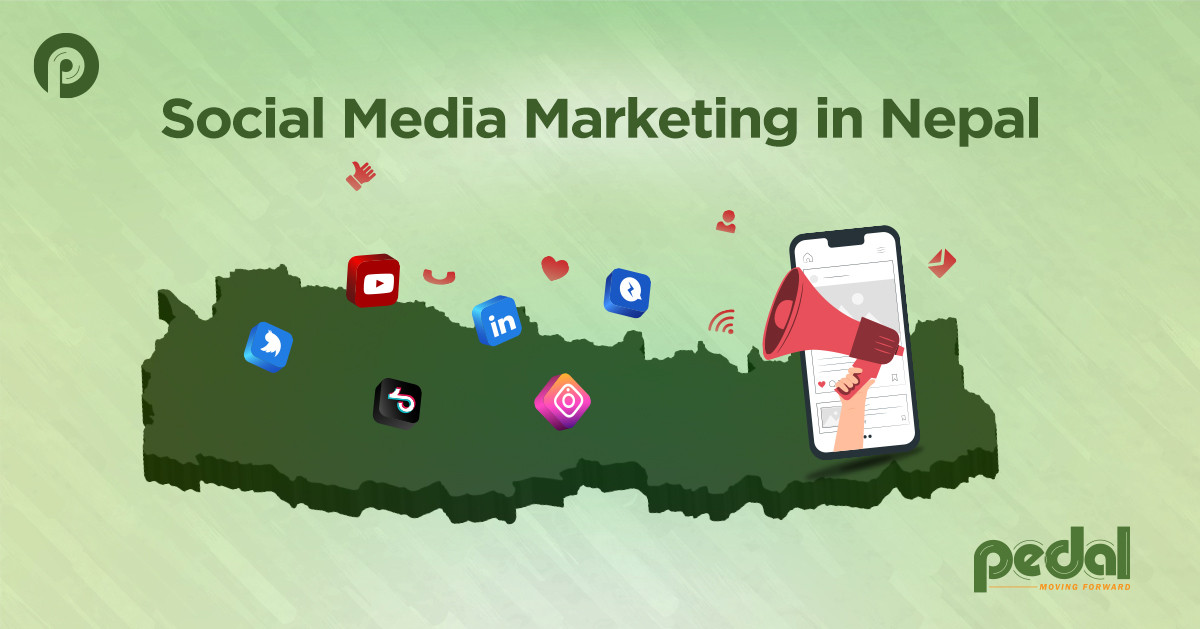 Social Media Marketing in Nepal has boosted business houses to connect with their audience in accordance to build brands, increase sales, and drive website traffic like never before. It has never been so easy to run advertisements to the ones who have an interest in specific products or services and motivate them to convert to make a purchase.
If you are looking to show your ads in the media platforms of your choice to the viewers who match the profile criteria that you have selected, you are just a step away from amplifying your sales. We are a leading social media marketing agency in Nepal catering to top multi-national as well as local business houses for almost half a decade now. With our hands-on experience in various digital marketing platforms to ensure a company's prominence on the online front, we have made a mark as the best digital marketing agency in Nepal creating strong digital imprints across multiple channels.
Many times our promising leads have doubts in relation to social media promotion in Nepal linking multiple platforms and creating a deceptive picture in their mind. To see social media marketing in Kathmandu along with the most used social media in Nepal, we have to start from the basic for better clarity:
What is Social Media Marketing?
With the appropriate use of social media platforms and websites to promote a product or service, a business house has the power to reach and connect with a specific audience with a defined objective of building a brand, and/or increasing sales and traffic. Usually, in Nepal, most people use Facebook to help them keep connected with their group/network. Apart from Facebook, other platforms that are mostly used in abundance are TikTok, YouTube, Instagram, LinkedIn, and Pinterest in Nepal.
Over 80% of consumers report that influencer content significantly impacts their buying decisions based on the brand's promise and positioning strategy on social media. Influencer marketing in Nepal has grown over the years like never before associating with known celebrities and figures to create that impact for a general audience to easily connect and build the trust factor.
Usually, on social media platforms, you can practice sharing text, images, videos, and other collaterals to improve organic engagement as well as paid/sponsored advertising. These practices allow you to meet your branding and marketing goals to connect with your audience to increase sales, grow your brand, and/or increase your website traffic by sharing quality content on your personalized official social media profiles. You may reach the right set of audiences, connect with them easily and engage the followers via multiple strategies catered by the social media platforms. Through direct messaging and comments, you can listen to your audience on an individual level and collect constructive feedback required for you to grow in the right direction. Almost all social media platforms give a detailed report to measure and analyze the campaign levels metrics. This allows you to track and attribute sales, revenue, costs as well as ROI for detailed knowledge on how are you performing on individual social media platforms.
Types of Social Media Marketing in Nepal
Social media was adapted at the early stage of the life span during the Hi5 web app to Facebook whim in Nepal. The ratio of early adopters as Facebook marketing in Nepal was gradually explored during the mid 2005s targeting the corporate and working people in the local urban community. The hoteliers were amongst the first to explore travel guides Trip Advisor and Google Maps to connect with foreign tourists in and around Kathmandu, Bhaktapur, Lalitpur, and closer residing towns.
Twitter exploded during the 2012s gradually brand-sizing political quality content to date driving mostly women and teenage adults to other platforms. Recently TikTok has upsurged as the best social media platform for the past 4/5 years in the major cities and towns of Nepal. Instagram, as known best for its Fashion and Style, has attracted similar characteristics to Nepali women as well as men aspiring for passion and luxury lifestyle. The active community loves to explore new and exciting opportunities in and around Nepal for similar B2B and/or HR-related job searching/recruiting people of various professions and business stakeholders on Linkedin in Nepal. YouTube is the favorite to explore official videos, songs, movies, or content created locally or internationally, most preferred in the Indian subcontinent. Pinterest, as well as Snapchat, is widely adopted by 12th-grade students in the major cities in Nepal.
Knowing the history of social media platforms in Nepal is not sufficient to draft a marketing plan. Let's explore the strategies applied within the platforms for the local audience.
1. Facebook Marketing in Nepal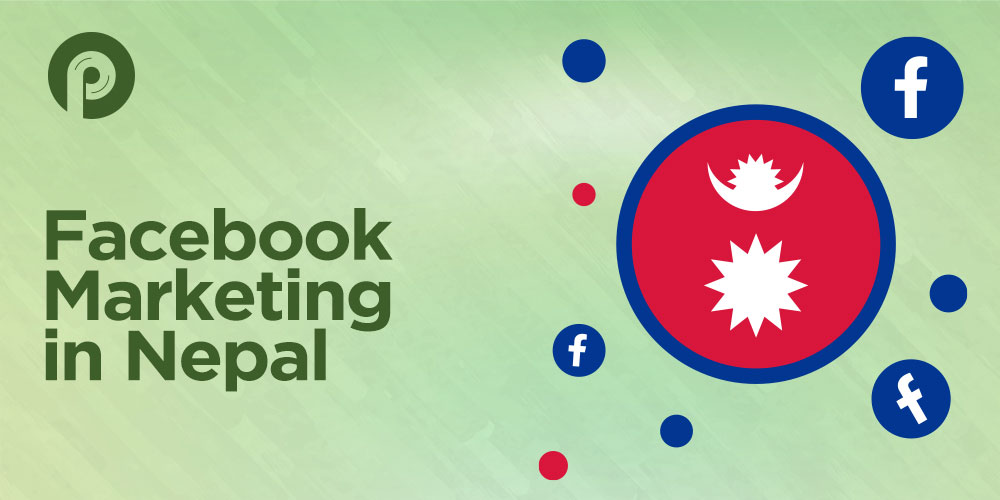 Regardless of age, gender, and demography of citizens living in Nepal, 98% of people explore Facebook in Nepal to connect with their loved and dear ones locally as well as with Nepalese residing in foreign countries. It is the most used social media in Nepal. Before constructing the main big idea-driven campaign produced graphically and/or in video format, the following are the strategic things one business owner or digital marketing manager should consider:
i. Identify company objectives
Facebook marketing in Nepal demands digital marketers to understand the local Nepali ethnicities of different provinces of Nepal. Based on the ground-level local research, the content marketing strategy for Nepal is developed to realize the ultimate goal of communication in local languages.
ii. Target Audience
The diverse age groups and genders make it fun to create content to suit the Nepalese audience. Young generations, who are explorative about matters and things and are also absorbed in various mobile phone games are targeted with engaging content for comments and shares. Mid-aged people would react to likes and/or shares of the post consumed as related field content. And the older ones limit to likes of the content consumed as brand related influencers.
iii. Content Format
Mostly 1:1 ratio post is focused on the wall feeds on Facebook marketing strategy scheduled at regular interval. These are texts, images, or video format contents devised for effective retention. Stories have become popular too for all age groups. In-between videos and carousel ads have been performing very well for the local Nepali audiences.
2. TikTok Marketing in Nepal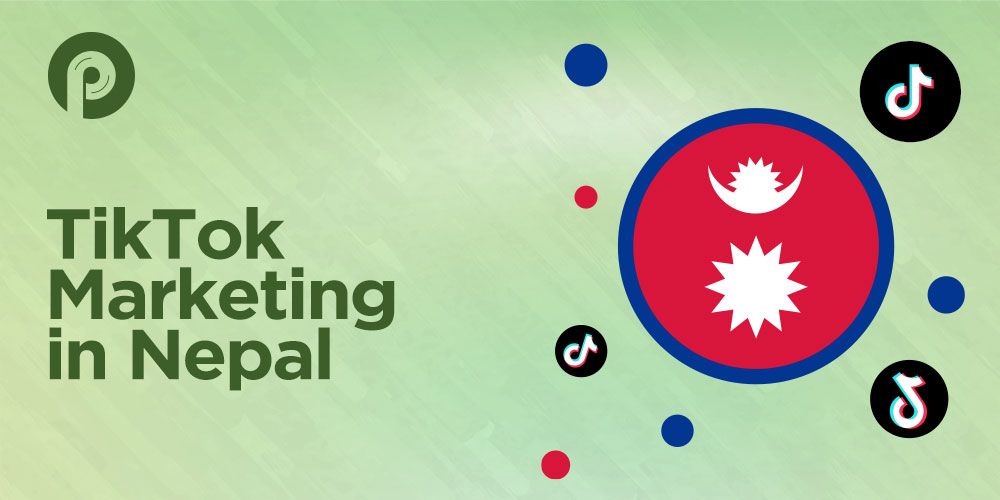 15 seconds videos on local Nepali topics in form of song, dialogue, and/or dance step created by shooting, adjusting clips, customizing audio, applying effects, and enhancing with in-built filters is excessively used on the video sharing app, TikTok by most Nepali people. Extracts of Nepali song and/or movie/TV series dialogue works the best amongst the local group. Hindi language contents engage the Terai region people and/or Indian-origin citizens of Nepal.
TikTok demands local influencers to engage in the company driven local content to be scheduled as released parallelly amongst everybody at the same time. Paid advertising is not yet explored/allowed for the Nepal region by TikTok as a platform. Hence, a digital marketer needs to restrict and rely on the organic reach of the platform to gain the right attention. Various short movie making audio clips needs to be developed for user-generated content for local audiences in Nepal along with influencers or celebrities of TikTok adapting and creating videos on the same track.
3. Instagram Marketing in Nepal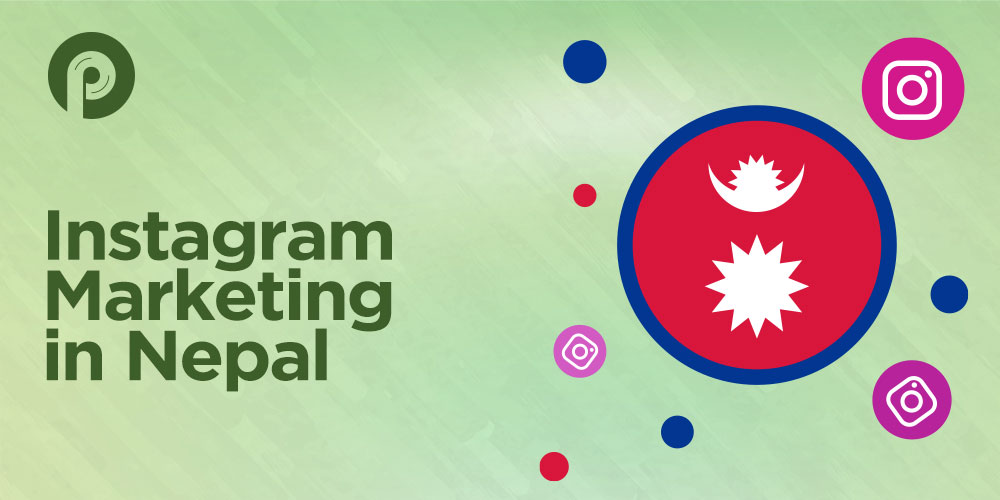 Instagram marketing in Nepal has taken the present digital marketing scenario by storm. While Meta's Facebook had been the first choice for digital marketers in Nepal, marketing on Instagram gave rise to a new platform that has been nothing but fruitful.
With over 1.074 billion active monthly users, Instagram is one of the most widely used social networking platforms. Additionally, according to statistics, Instagram has over 25 million business accounts and almost 2 million monthly marketers. Likewise, the most attractive data for marketers could be the high percentage of engagement and click-through rate (CTR). According to estimates, more than one-third of Instagram users have used the platform to make an online purchase, making them 70% more likely to do so than people who don't use Instagram.
From a marketing point of view that those are great numbers and it's just the tip of the iceberg. There are other different ways one can utilize Instagram for better campaigns. New features such as Instagram Reels allow marketers to create creative short ads. Another feature any marketer can utilize is microblogging through hashtags. Hashtags are a great tool to reach new audiences and create brand awareness.
When talking about Instagram marketing in Nepal we can't forget about the buzzword, influencer marketing. Marketing through influencers is a great way to explore new audiences through organic traffic (more or less).
4. YouTube Marketing in Nepal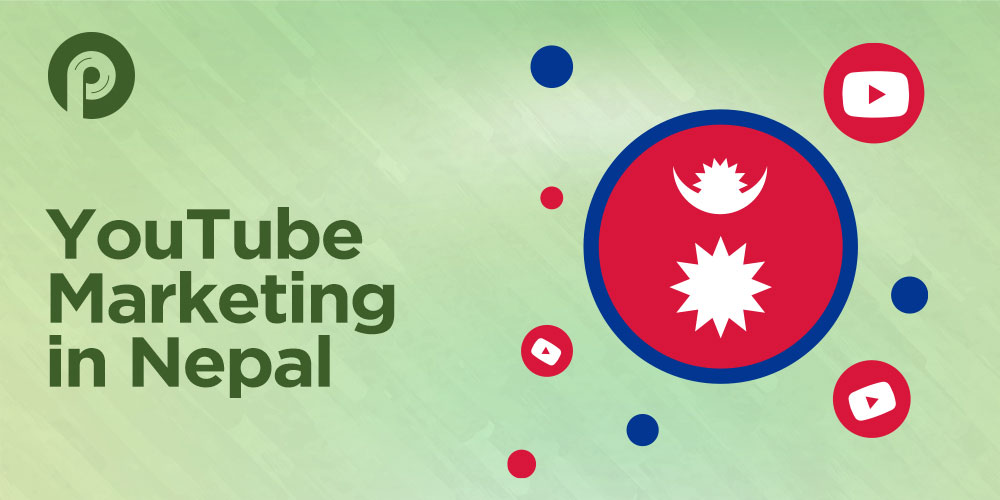 Be it for informative purposes, listening to music, catching up with the news, or just engaging a child, uses of YouTube has become an integral part of Nepali people's online life. Not only in Nepal but all over the world YouTube's popularity is immaculate. It is estimated YouTube boasts 2.5 billion monthly users and around 200 million daily active users. However, YouTube's humungous user base isn't the only attractive factor for companies and brands. According to recent data, people are increasingly using YouTube to learn about products and do product research. Companies may benefit from platform marketing by raising brand recognition, strengthening partnerships, improving SEO, and generating high-converting visitors.
Additionally, YouTube is the second-largest search engine in the world. On YouTube, there are more than 5 billion videos, and 500 hours of new content are added every minute. Gaining visibility on YouTube requires a thorough understanding of the YouTube algorithm and careful video optimization. Although YouTube is a sizable search engine in and of itself, it also works wonders for increasing your exposure on Google. More than 94% of the videos in video carousels on Search Engine Results Pages (SERPs) currently originate from YouTube.
Another feature to be excited about is a feature called YouTube Shorts. YouTube Shorts like TikTok and Instagram Reels allows you to take advantage of short-form video marketing for quicker content consumption and more mobile usage.
Running ad campaigns on YouTube has one of the best conversion rates. You may increase audience reach, increase website traffic, and target your audience with targeted messages by running YouTube ad campaigns.
Three ad kinds are supported by YouTube:
Bumpers ads: These are the non-skippable ads that appear before a video starts.
In-stream ads: These appear during specific parts of your videos and may either be skipped or cannot be.
Overlay ads: Overlay ads are non-video advertisements that show up as text or banners above or below your videos.
5. LinkedIn Marketing in Nepal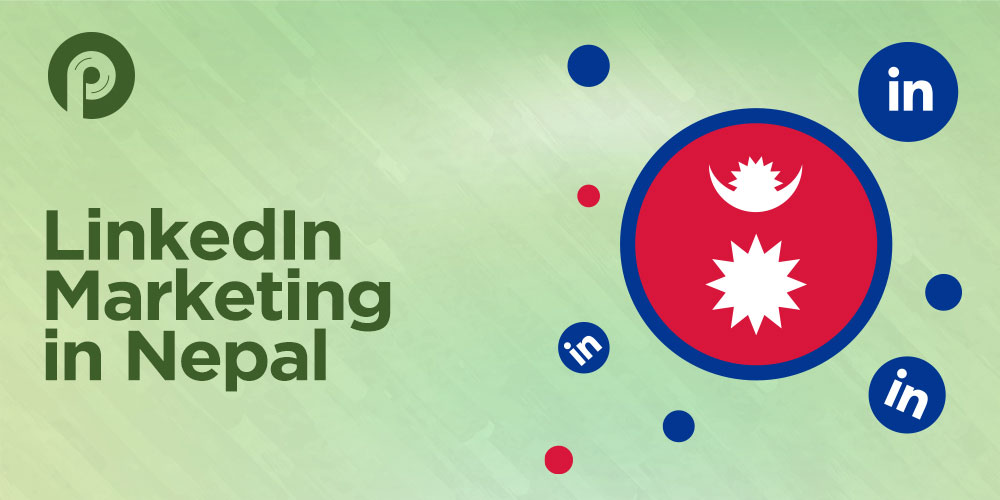 LinkedIn marketing in Nepal is often overshadowed by more caught-on social media services like Facebook, Google, and Instagram. Like most, you might be tempted to focus all of your efforts on these social media platforms when it comes to social media marketing in Nepal. Even though those are excellent channels for interacting with your target market, LinkedIn should not be left out of the table. As the biggest professional network in the world, LinkedIn produces leads 227% more efficiently than Facebook and Twitter, making it a crucial marketing channel for your company.
So, how can you utilize LinkedIn for an effective marketing campaign in Nepal? Well, the first step could be the utilization of organic features such as hashtags. Similar to other social media platforms, hashtags are gold mines for reaching new markets, sectors, and specialties. However, utilizing too many or, even worse, the incorrect ones, might limit your reach. Apart from hashtags, LinkedIn allows an unlimited post feature which can be used to create regular posts to keep the audience engaged.
Furthermore, LinkedIn is a great place for lead generation. It is commonly known that the platform serves as a focal point for B2B selling. However, creating leads on LinkedIn requires striking a balance. Both brands and salespeople need to be careful about how they develop leads and close deals.
The Benefit of Social Media Marketing in Nepal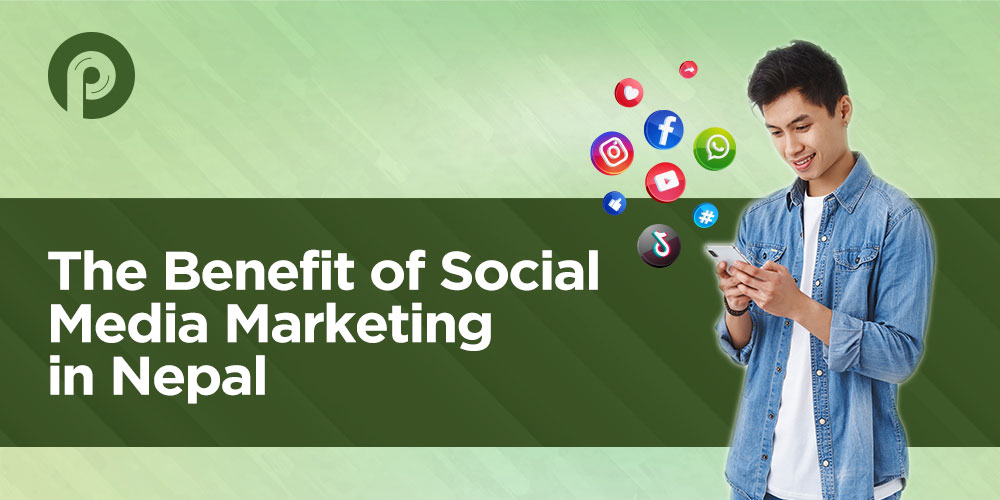 Be it for casual surfing or other purposes, a mammoth number of the Nepali population are digitally active. People of all ages are linked to social media since smartphones with internet connections are so widely available. Because social media offers so many advantages, its usage doesn't appear to stop till the end of time. So, what are the benefits of social media marketing in Nepal?
Growth in Brand Recognition
One benefit almost guaranteed with social media is an increase in brand recognition. Sharing on social media directly raises brand recognition since millions of consumers will be able to view your post be it organically or with paid promotion. People will become aware of your company's name and brand. You may develop a social media company profile to increase brand recognition.
Through social networking, you can keep up strong customer connections and make finding customers for your items easier. Not only that you can grow traffic on your website whilst developing strong brand recognition. Similar to this, your participation through comments, likes, shares, and re-posts helps companies generate more leads, increase conversion rates, and boost sales.
High Conversion Rate
Another benefit of marketing through social media is a higher conversion rate. Your company will have more prospects for conversion with higher visibility. Any blog post, picture, video, or remark has the potential to enhance traffic to your company's website. Social media marketing gives your business the opportunity to stand out by adding a personal touch. Brands become interactive when they post on social media, share material, and leave comments on articles. Individuals like conducting business with other people over corporations. The more you impress a visitor, the more probable it is that they will consider your company the next time they require your goods or services.
Super Cost Effective
The low cost of social media marketing is one of its major benefits. On numerous social networking websites, you may make a social network profile for free. This implies that you may easily engage the audience and don't have to pay for post content. It is an incredibly efficient free advertisement for your company. You may educate your target market about your company by keeping them interested in what you have to say at a very low budget.
As more money is spent on printing pamphlets than on social media posting social media advertising campaigns makes it possible to reach a larger audience than the conventional methods of hoarding boards, leaflets, etc. The second-largest search engine in the world, YouTube, can be more affordable than network television advertising. Social media enables firms to concentrate on their target market while spending less on advertising.
Strengthen Customer Relation
With social media, you can maintain a close relationship with your audience while keeping a close eye on your target market, and prospects. It is quite easy to update your consumers on the newest specials, new items, and more through social media marketing. It is a fantastic method to broaden your present foundation and build something for the future.
Long-term relationships are formed as a consequence of interactions and collaboration between brands and their customers. Brand loyalty and reputation are enhanced by engaging with your audience on social media postings, responding to their queries and comments, and providing any support that they may need.
Social Media Marketing: How We Do It
At Pedal work closely with our clients to develop effective and dynamic advertisement campaigns which help in elevating their online presence on different social media like Facebook, Instagram, TikTok, and LinkedIn among others. We simplify social media marketing by emphasizing leads rather than likes so you can concentrate on generating leads and increasing sales. Here's what we do under social media marketing at Pedal.
Brand Monitoring
There's a significant probability that if your clients are online, they are discussing your company! Customers share both favorable and negative impressions about companies on review websites and social media. A smart technique to get leads is to monitor what people are saying about your business. We'll constantly search the internet for fresh references to your business on blogs, review websites, or social media. Pedal's comprehensive strategy for brand monitoring uses machine learning as well as help from experts qualified to spot problems and fix them.
Create Engaging Content
Creating content in social media is all about keeping people engaged in whatever you are trying to say. Every content must be able to give a message However, creating engaging content is not about bombarding your audience with content.
At Pedal, we are aware of this and provide exciting, engaging, and informative material for each and every one of our clients. Educational material uses facts about the company or its specialized market; interactive content increases your audience engagement, and inspiring content helps to forge a connection with your audience.
Our content marketing strategy offers a tactical plan that is centered on producing and disseminating useful, timely, and consistent material to draw in and hold onto your audience and, eventually, to encourage lucrative consumer action.
Social Media Management
Social media is a "pay to play" environment that demands all of your resources, including a well-thought-out game strategy, complete dedication, and a set budget. In addition to organic outreach, putting material in front of your target audience without spending money on advertising, whether for a continuous campaign or a one-time sponsored post, can be difficult.
Pedal integrates social media management services into your complete marketing plan to increase your online visibility. The correct Facebook or Instagram management solution can draw in followers, care for them, and turn them into devoted customers. Our team's experience managing social media campaigns for small businesses, large corporations, and franchises bears this out.
Social Media Advertising
Social media advertising is a form of digital marketing that involves sending sponsored advertisements to your target audience through social networks like Facebook, Twitter, and Instagram. Ads on social media are a quick and efficient approach to reaching your target audience and expanding your marketing initiatives.
Pedal is able to hyper-target audiences and offer customized content based on demographics and user activity by utilizing a variety of data sources. Advertisers may experience an increase in interactions and conversions when a brand is exposed to an audience on social media. Additionally affordable, social media advertisements provide excellent rates of return on investment.
If you want to swiftly reach new target markets, social advertising in Nepal is a must. Social media advertisements are being used by an increasing number of businesses, including the best-performing brands in the world, to expand their brands and attract new customers. It's critical to understand how these advertisements function and how they may help your business if you want to stay competitive.
Video Promotion
Now more than ever before, videos are now a crucial component of the vast majority of effective marketing initiatives. Recent growth in new video marketing trends is unequivocal evidence of that. As we are in the age of sites such as YouTube and TikTok time for video promotion can't get better than this (sure that's an understatement).
Additionally, it has been demonstrated that engaging visual content increases ROI and drives sales. Did you know that 73% of viewers of product review videos go on to buy one of the products featured? That is a significant amount, no doubt!
Promotional videos are quite simple; they are exactly what they say they are. You may highlight a new product using these to inform your clients about an ongoing discount or special offer.
Frequently Asked Questions (FAQ)
1. Which social media is most used in Nepal?
According to most recent data Facebook and TikTok top the list of most used social media in Nepal
2. Is digital marketing a good career in Nepal?
While saying this could have brought you a lot of hecklers few years back now it just attracts eager years. Career in digital marketing is one of the most highly anticipated jobs right now among the young people, and for all the good reasons. One can develop skills to work in many fields of digital marketing as Digital Marketing Executive, SEO Specialist, Social media manager, Copywriter/Content writer, Online marketing manager, and many more.
3. What is social media marketing with examples
Social media marketing is the method of promoting brands or products through social media platforms like Facebook, Twitter, Instagram, and LinkedIn. It involves creating and sharing content, engaging with followers, and running targeted advertising campaigns.
Examples of social media marketing include companies creating engaging posts on their Facebook page, influencer collaborations on Instagram, Twitter chats, and LinkedIn sponsored posts.
4. How many social media users are there in Nepal?
According to datareportal.com there are 13.70 million active users in Nepal as of Jan 2022
5. What are the uses of social media?
Social media has a variety of uses, and uses of social media in Nepal includes connecting with friends and family, sharing information and opinions, networking with professionals, promoting businesses and products, and accessing news and entertainment.